Details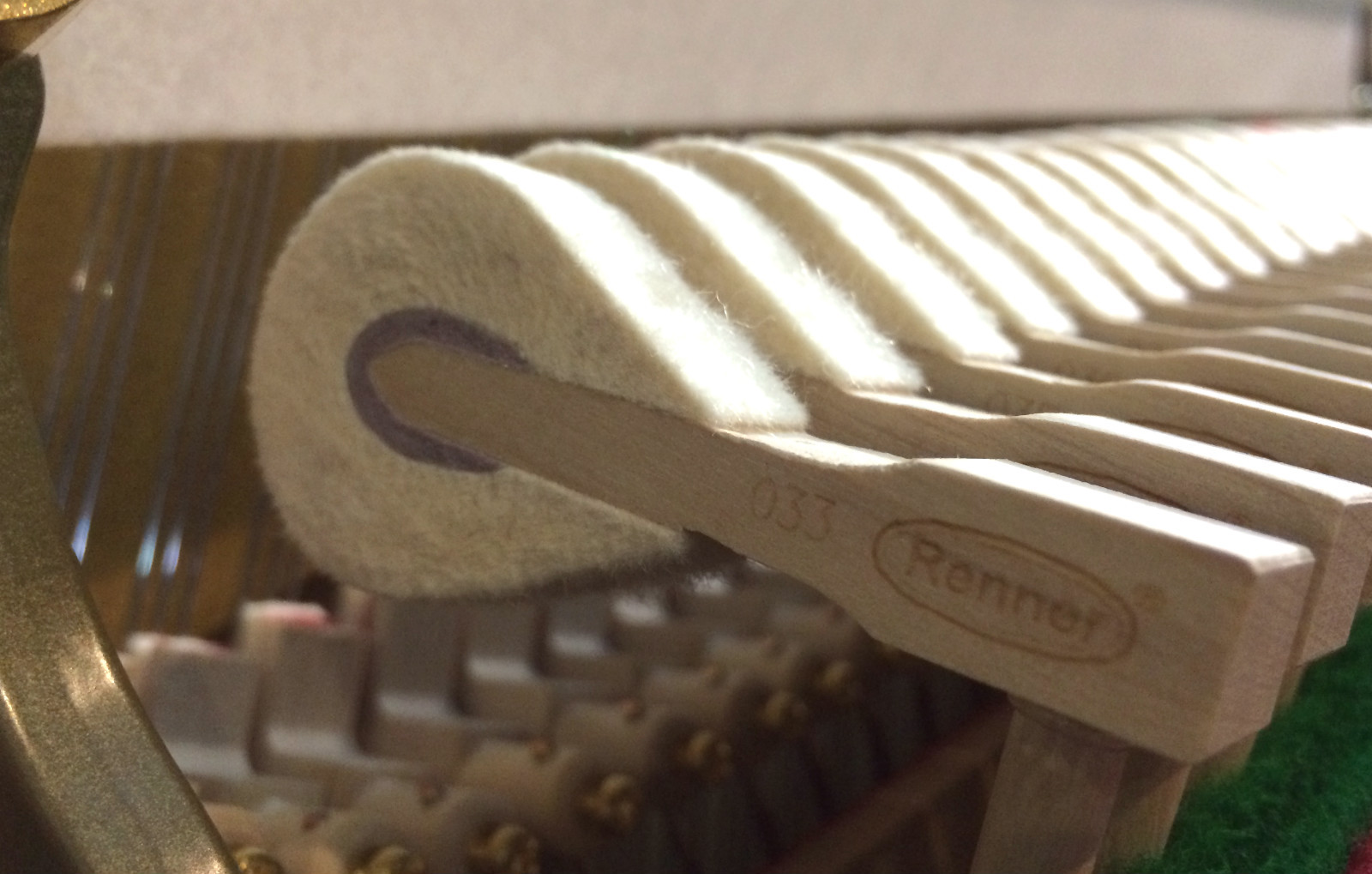 SCHIMMEL - VOGEL - V125 European High Gloss European Mahogany Premium Upright Piano
Specifications:
Weight - 260 kgs
Height - 125 cm
Width - 154 cm
Depth - 62 cm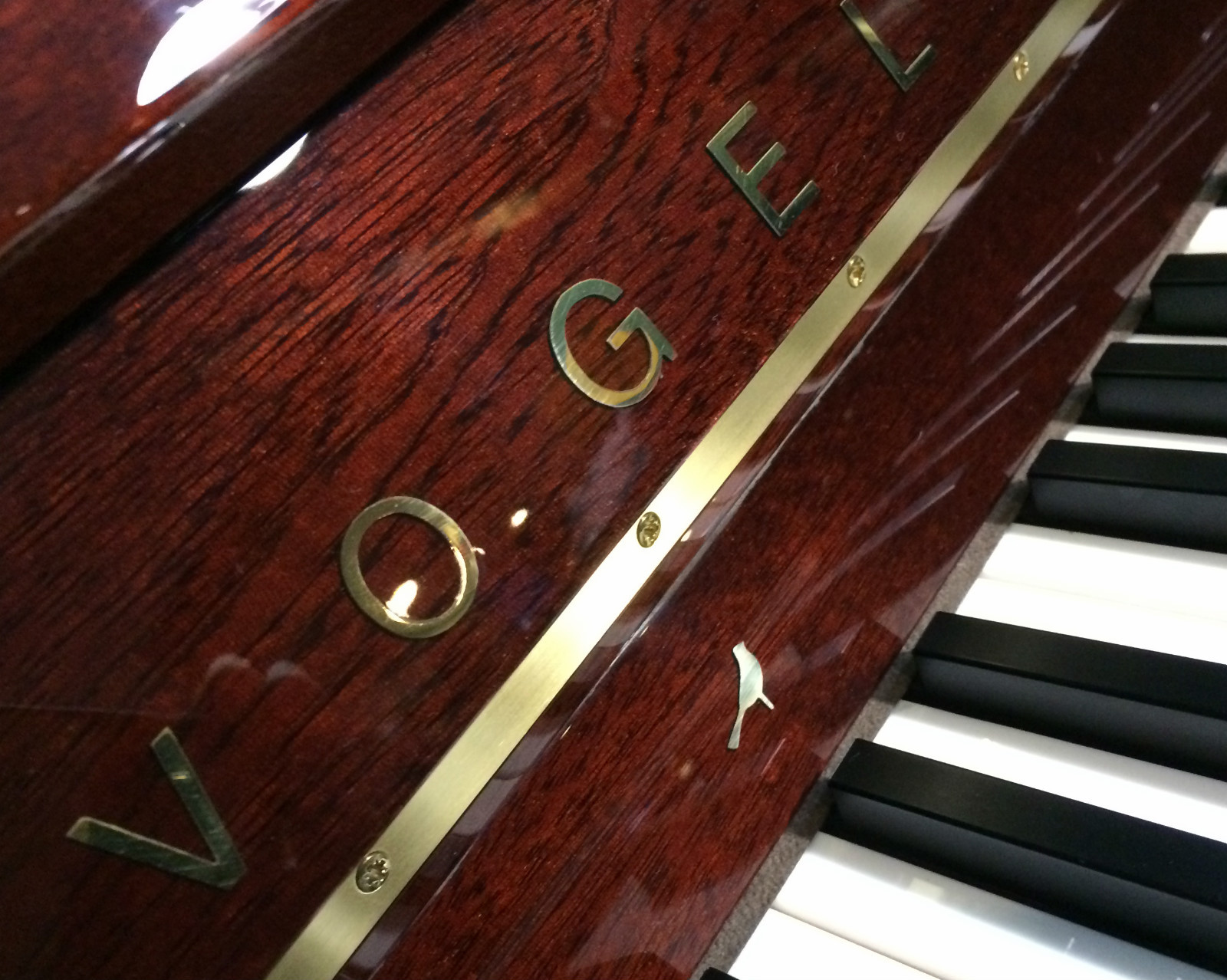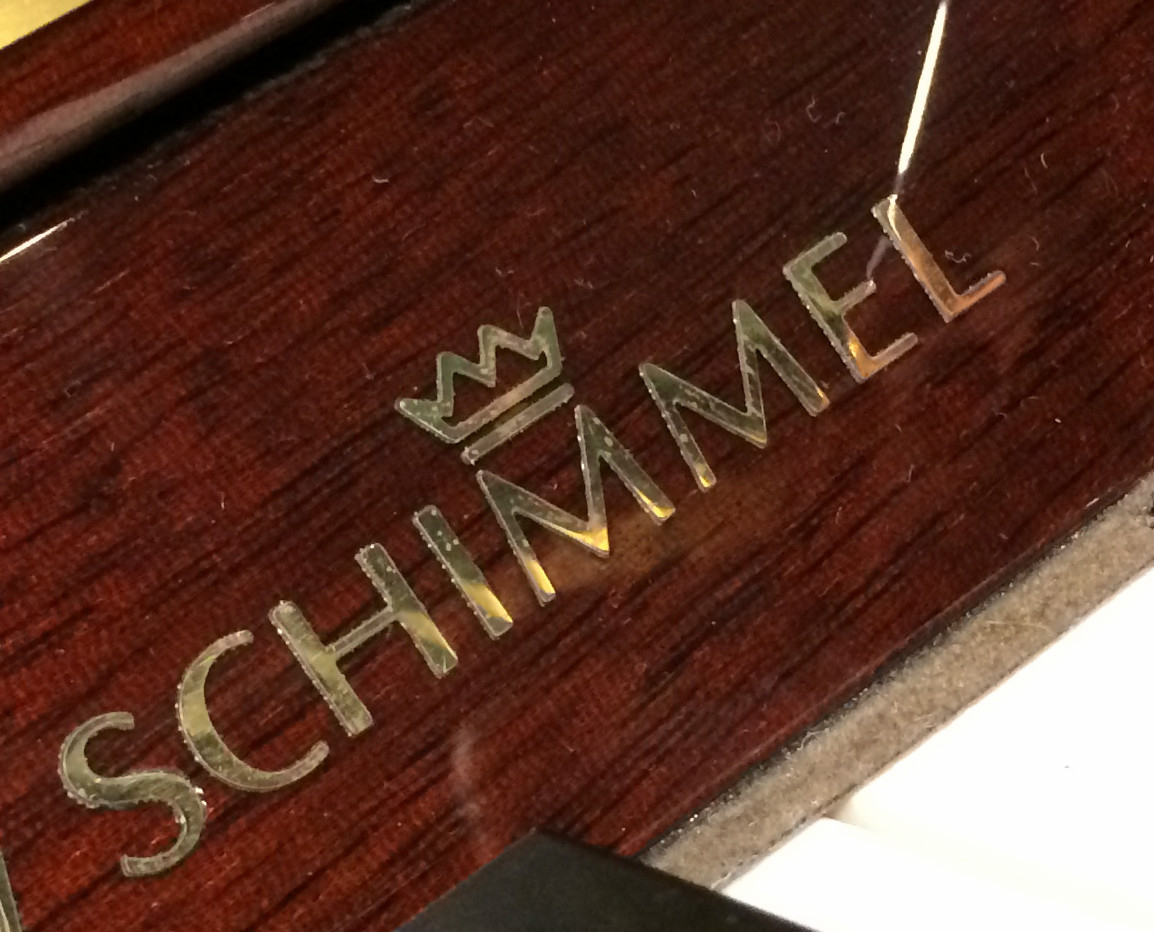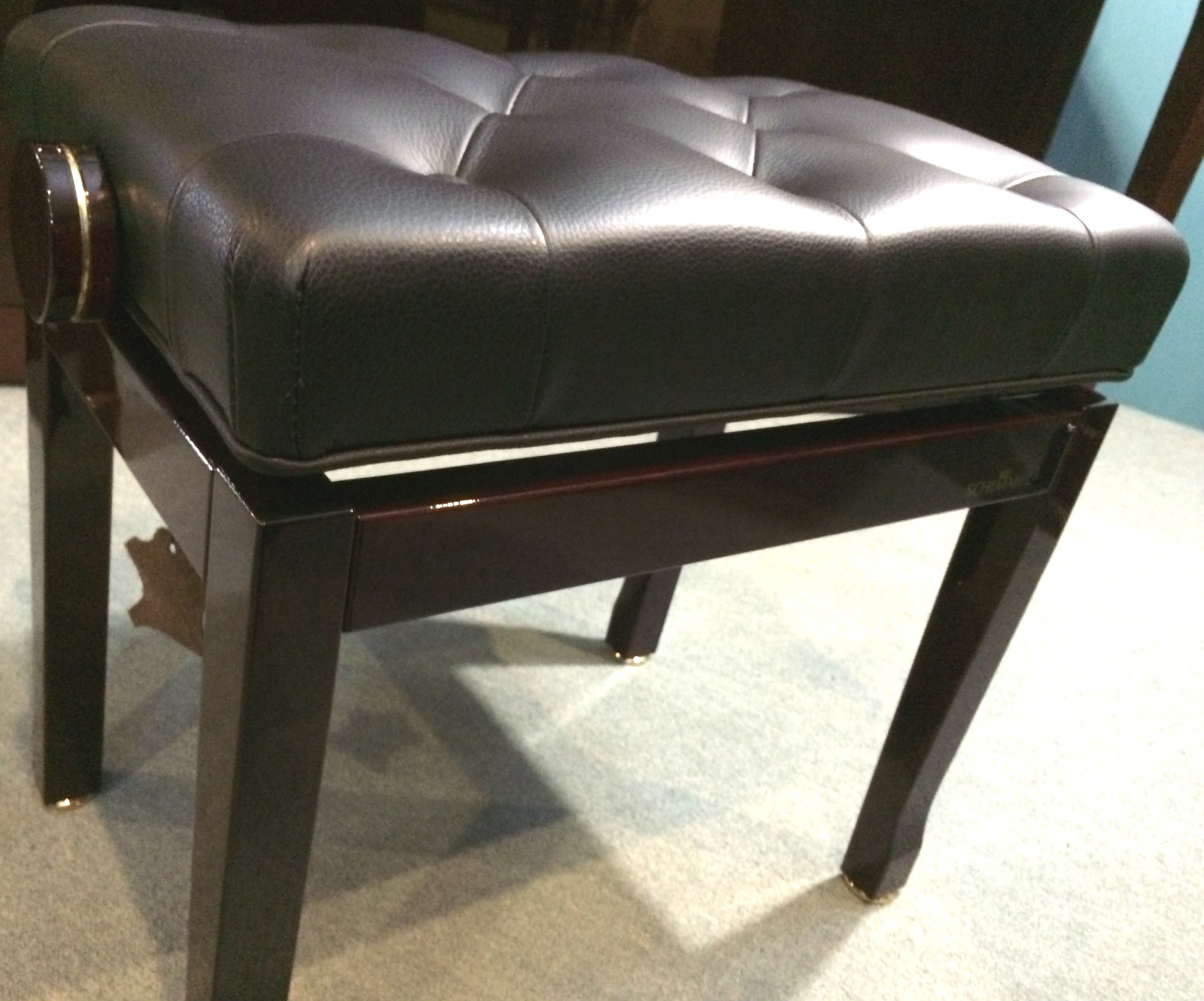 Music-making is far more than merely hitting the correct note: it broadedens horizons, awakes emotions and creates new opportunities for self-expression. The production of traditional piano manufacturing contributes to that playing experience. The sound and durability inspire enthusiasm for beginners as well as advanced musicians.
What happens when the principle of the 'golden section' is transferred to a piano? It produces well-proportioned models such as the V 125 Tradition. In art and architecture, the golden section is frequently considered as the ideal proportions between certain combinations of lengths and is also viewed as being the epitome of aesthetics and harmony. Seen from this aspect, this model certainly fulfils all criteria
Products made in Germany have an excellent international reputation. This is because German products, like Schimmel upright and grand pianos, stand for the art of engineering as well as innovation, design, craftsmanship and, of course, reliability – in short, quality that people trust in worldwide. Unfortunately, there are some Piano brands which misleadingly label themselves with 'German Design', 'German Technology' or have chosen Germanic names. This creates a false impression that these instruments have been produced in Germany, which can be confusing for customers, as in most cases these copycat products originate from outside the country. As a result the German Piano Manufacturers Association (BVK) and the German Chamber Network of Commerce have developed a certificate for manufacturers to use so that customers can easily identify products that are genuinely produced in Germany. There is a strict criteria for manufacturers to meet which then results in 'Made in Germany' certification. This certificate is then verified every two years to ensure these standards are consistently maintained. This certificate allows potential customers the reassurance that they are investing in a piano which truly encapsulates the prestige of a German product. Schimmel is proud to be one of the few manufacturers who have received the 'Made in Germany' certification for their pianos – a products that are still is made in Braunschweig | Germany.
In the Schimmel workshop in Braunschweig, instruments of excellent quality are manufactured on the basis of consummate ability and passion. This is also where the most frequently played German-made grand and upright pianos are produced, as Schimmel has made the most substantial contribution to pianos made in Germany during more than 125-year-old tradition. Braunschweig is also the home of our employees and their families. It is their artisan skills and attention to detail which have developed over the decades to form the foundations for the manufacture of state-of-the-art grand and upright pianos providing numerous years of pleasure in music-making. It is this close association with the location of Braunschweig and the guarantee that each individual instrument is created with the greatest care to the highest standards of craftsmanship which we are proudly documenting
Proudly introducing Germany's largest and most awarded piano manufacturer.
Playing piano can be a breathtaking experience. This is why Schimmel pianos are designed to be your partner in making music. You may keep your piano all your life, or even hand it down to your family. So, when you choose a Schimmel piano, you are ensured you a lifetime of reliable, rewarding music making.
Schimmel offers a magnificent range of grand and upright pianos for the discerning pianist. These superb instruments combine tradition with innovation, to give you a brilliant playing experience.
On May 2, 1885, Wilhelm Schimmel founded Schimmel pianos in a suburb of Leipzig, Germany. During his life he was honored with titles of purveyor to royal houses, as well as numerous awards at world expositions and fairs. This testifies to the quality of his instruments and business dealings. Still to this day, Schimmel continues to cultivate the fine art and craft of piano manufacturing.
In 1927, the management of the company passed on to the second generation, Wilhelm Arno Schimmel. He relocated the production to Braunschweig and led the family business through difficult years. He proved an inspiration to the piano industry, leaving his imprint on an entire epoch of piano designing and opening up new paths with his modern designs.
Since 1961, the company was under the management of the third generation, Nikolaus Wilhelm Schimmel. Under his leadership, Schimmel advanced to become Germany's No. 1 resident family owned and operated piano manufacturer, one of the few companies still in the hands of direct descendents of the original founder for over a century. Today Schimmel continues to rank as one of the world's top brands in the piano industry.
In recent years, Mr. Hannes M. Schimmel-Vogel joined the Schimmel Management and in 2005 became the new head of the company. Along with Gabriela M. Schimmel and assisted by an exceptional team of staff members, the fourth generation continues the legacy of craftsmanship and artistry associated with this company since 1885.
On May 2nd, 2010 Schimmel celebrated its 125th anniversary. Since this time, Schimmel has seen a strong increase in revenue and orders.
To progress in piano manufacturing, Schimmel has always looked on its secrets and its tradition. Whether you consider the sound-producing portions, or keyboard-and-action assemblies, the woodworking or design, the research or development, Schimmel know how unite all these areas to create harmony. This is eloquently testified by their instruments and is something you can hear, feel, see and experience with Schimmel pianos.
Schimmel is one of the few piano-manufacturing companies where the art and craft of traditional piano manufacturing is still being carried on, by direct descendents of the founder of the company. This results in top-quality instruments. It is with good reason that the brand name Schimmel enjoys an excellent reputation worldwide.

Wilhelm Schimmel
(1854 - 1946)
W. Arno Schimmel
(1898 - 1961)
Nikolaus W Schimmel
(1934 - )
Hannes Schimmel-Vogel


A fine piano defies description, even in the most eloquent of words. The only way to gain an accurate impression of the outstanding qualities of a Schimmel piano is to actually sit down and play it, and discover for yourself why more musicians and music lovers have chosen Schimmel than any other brand produced by a resident family owned and operated German piano manufacturer.
Schimmel pianos are committed to bringing joy to the hearts of those who play and hear them. With this aim, Schimmel devote themselves to the development of the traditional piano. Component for component, Schimmel pianos are created by the hands of experienced craftsmen. Thousands of individual work operations are necessary, over twelve thousand parts must be assembled, and materials and workmanship carefully matched to each other.
It is with good reason that Schimmel grands and uprights rank among the elite of the traditional name-brand pianos. "Quality" is the word on everyones lips. Some manufacturers who specialise in the lower price classes adorn their products with German-sounding names and attempt to offer cheap imitations to top name-brand pianos. But, in closer detail, such instruments remain cheap imitations. To produce a top name-brand piano requires much more. And this is precisely what Schimmel has to offer.
CARLINGFORD MUSIC CENTRE is proud offer & represent the Schimmel Vogel Uprights in-store & online. In addition, you can select a Schimmel piano to suit your specific requirements, be it colour, design or something even more special. For a complimentary catalogue, please phone or email
Carlingford Music Centre (02) 9873 2333.
Owning a Schimmel piano is a very special experience. When you purchase a Schimmel, you will receive 10 years warranty, an exclusive "Caring for your Schimmel" booklet and membership to the "Schimmel Owners Club", with newsletters and special events.
Schimmel: The Art and Craft of Piano Manufacturing
The traditional piano is an extremely complex musical instrument. There are over 12,000 individual parts, assembled in countless work operations. Experience is passed from generation to generation in the Schimmel factory. This is combined with Schimmel's revolutionary CAPE (Computer Assisted Piano Engineering) technology, designed and patented by their master craftsman. The delicate marriage of tradition and innovation produces a piano that is refined to new standards
Carlingford Music Centre (02) 9873 2333.
Additional Information
| | |
| --- | --- |
| SKU (Musipos ID) | V125MP |
| Manufacturer | SCHIMMEL |
| Model Number | V125MP |
There are no reviews for this product yet.
Unless otherwise stated on our website, the prices shown include GST but do not include tuning, lessons, installation, delivery or freight insurance.
We have the power at our discretion to not only MATCH but even BETTER a price offered to our clients by an authorised competitor. For more information please contact us and be ready to do business. Conditions apply.
Our Website uses live integrated pricing and inventory systems allowing us to receive qty and pricing updates live from our suppliers, as a result there can be cross matches between products. Although is rare pricing may not be accurate.

Unless you are paying for your order under an available finance plan or lay-by, full payment for all orders including orders for products that Carlingford Music Centre needs to receive from our suppliers must be made at the time the order is placed. Ownership of goods does not pass to the customer until full payment is received by Carlingford Music Centre.

We have facilities for VISA, MasterCard, American Express, Diners Club, PayPal, Money Order, Bank Cheque or Direct Deposit. Additional time is required for processing Money Order, Bank Cheque or Direct Deposit. Overseas orders are at the discretion of Carlingford Music Centre.

We offer a two-month lay-by when a 20% minimum deposit is paid on products clients wish to purchase. Regular fortnightly payments are requested and all goods remain at Carlingford Music Centre until the full payments are made.

Finance options are available ranging from 3 to 24months.

Please discuss with us what suits your personal budget. We have a huge range of interest-free finance options available. Please see Lombard website or see in store for more details. This offer is to approved customers only.
Please note: Shipping prices quoted on this website are for Australian Metro City's and Selected International Countries
International Orders
We currently support international order up to 2kg on our website. Orders larger than 2kg will require you to contact us for a quote. We currently ship online to the following countries.
Argentina, Austria, Belgium, Brazil, Bulgaria, Canada, Chile, China, Costa Rica, Cyprus, Czech Republic, Denmark, Dominican Republic, Ecuador, Estonia, Finland, France, French Guiana, Germany, Greece, Guadeloupe, Hong Kong, Hungary, Iceland, India, Indonesia, Ireland, Israel, Italy, Jamaica, Japan, Latvia, Liechtenstein, Lithuania, Luxembourg, Malaysia, Malta, Martinique, Mexico, Netherlands, New Zealand, Norway, Philippines, Poland, Portugal, South Korea, Romania, Singapore, Slovakia, Slovenia, Spain, Sweden, Switzerland, Taiwan, Thailand, Turkey, United Arab Emirates, United Kingdom of Great Britain and Northern Ireland, United States of America, Uruguay, Venezuela
Certain products may need to be ordered from suppliers and delays can occur depending upon availability of goods from suppliers. This may, on occasions include products where current stocks are sold out or other unforeseen circumstances occur.

Naturally, every effort will be made to acquire the product on behalf of our customers in a timely manner. However, to avoid frustration, we recommend that you check the expected delivery time before placing your order by calling +61 (02) 9873 2333 or emailing us contact@carlingfordmusic.com.au

Certain products may not be available where the existing stock is exhausted or suppliers are unable to meet orders from Carlingford Music Centre. Where this occurs and you have already placed an order and paid in full we will notify you as soon as possible after we become aware of the non-availability and will refund or credit your purchase price in full.

Disclaimer

As prices, product, descriptions and availability can change very quickly and without notice, Carlingford Music Centre does not warrant accuracy or completeness of information on this website and will not be responsible for any typographical errors or faults in illustrations, pictures or descriptions. Pictures of products are for illustration only and the actual product can differ from the picture shown.